Where are stickers and buttons produced?
Even though stickers and buttons are no products that will last forever, I still try to be selective when it comes to production facilities and material. Stickers and buttons are produced in Italy while pins are made in Germany. Because I operate from Germany I try to have the route of transport as short as possible.
Do you ship internationally?
Yes, I do and shipping comes with different options. When going through the checkout process the shipping options will be applied according to your entered country automatically.
Payment options
At the moment payment is only available through Paypal.
How long does shipping take?
Orders will be shipped within 2-7 business days – mostly on Mondays – from Germany.
Depending on where you live shipping can take up to 4 weeks. In most cases orders to the US take about 2 weeks to arrive. If you live in Germany or Europe orders usually arrive in less than a week.
I want my order to be a present
If you want your order or part of it being a present to someone else, use the "Order Notes" field on the checkout page and let me know what I should write on the label instead. Here're samples on how your order is packed: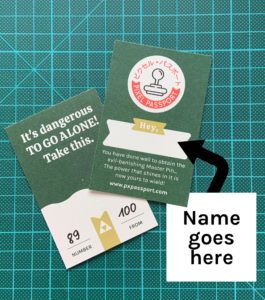 Also, giving my products to someone else as a gift, makes me really happy, too. I'm glad you think they will make someone's day! 🙂
My order didn't arrive. What can I do?
Please allow your order to take up to 4 weeks to arrive.
If you chose the tracking option during the checkout process you can check the status of your order right here. If the status causes any questions, try contacting your local carrier or local post office and open a missing package case. If this doesn't help, feel free to contact me and I will see what I can do.
If you didn't choose to track, unfortunately, there's no way I can help you find your package once it's been shipped. Still, drop me a line and maybe we can figure something out.
Returns
I want to make sure you are happy with your order and I try to add product photos to the website, so you have a realistic preview of the items that you'll get. If there's a problem with your order or you're unhappy with the quality, please contact me within 14 days of receiving your order.
Who is running Pixel Passport?
PxP is a one-person project run by me, Anna. I also handle all shipping. To get more information, please check the About Page.
What does the symbol on top of the logo mean?
It's Pixel Passport written in katakana, the Japanese syllable alphabet for non-Japanese words. It's written
ピクセル・パスポート and pronounced as
pikusuru・pasupaato.
How can I submit a stamp design!
Pixel Passport doesn't have an open submission. If you do want to submit a stamp design, feel free to contact me directly.